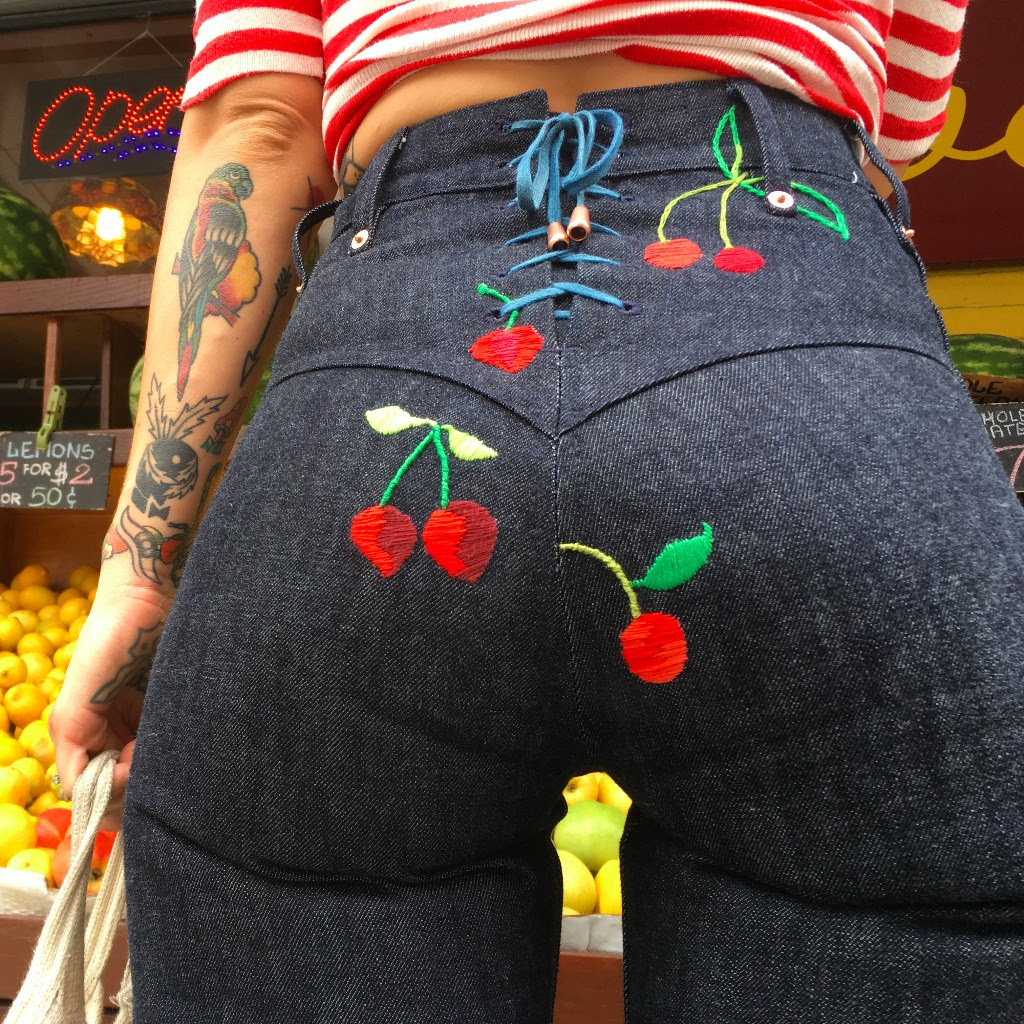 Picture Farm Gallery is proud to announce our November neighborhood artisan pop-up for November…
Today, denim whisperer Merica Lee and ceramic artist Erin Clancy announced "Silhouettes", a one-day shopping event on Sunday, November 13th at Picture Farm Gallery in Williamsburg, Brooklyn.  
The collaborators are teaming up to produce the one-day pop-up, which will feature new product lines from both designers.  Lee will be selling a pair of her coveted bell-bottom jeans customized by embroidery star Sophie Lockhart, along with additional one-of-a-kind trousers treated with airbrush and ice-dye.  (Standard Merica Lee jeans retail for $325, and one-off collaborations will be $425.)
Clancy has just completed an assortment of stoneware featuring raw texture, hand-painted patterns, and gold luster.  Inspired by the color and forms of the Spanish and New York landscape, the new home and tableware collection will retail from $25 – $100.  Floral studio Huntress will create ikebana-style flower arrangements inspired by Clancy's pieces, and will have bouquets available for purchase as well.
Clancy and Lee began collaborating last year, when Lee launched her eponymous denim line with an unmissable, butt-boosting silhouette sewn from raw 14 oz. denim in classic blue.  When Lee added a white denim option to her collection, Clancy created a series of one-of-a-kind beads to adorn the laces on the jeans' rear.  Each stoneware bead is hand-rolled, cut, formed and painted.
ERIN LOUISE CLANCY is a visual and ceramic artist based in Queens, New York.  She utilizes traditional practices to celebrate the home, daily rituals, and the urban landscape, and believes beauty resides in everyday objects.  Erin creates limited edition collections for the home, as well as commissioned work for coffee shops and restaurants (including Cafe Grumpy, Diner, and Tygershark).  erinlouiseclancy.com
MERICA LEE, drummer for the rock outfit Naked Heroes, based her signature style on a treasured pair of heavyweight, sailor-style dungarees.  Made in New York City's Garment from nearly indestructible raw Japanese denim, the jeans have been called "magical" and "butt-changing" by Lee's rapidly growing base of devotees, which includes Parker Posey, model Jamie Bochert, and androgynous style icon Andre J.  mericalee.com
HUNTRESS is a Brooklyn-based floral studio inspired by wildly opulent equatorial designs, spirit of place, a mood or feeling in time, cross-cultural savoir-faire, the tropics, botanical exploration, and natural oddities. Founded by Alicia McDole, the company specializes in weddings, events, private installations, and floral styling.  huntressbotanica.com
Sunday, November 13th
12 – 6 PM
Picture Farm Gallery
338 Wythe Avenue
Brooklyn, NY 11211