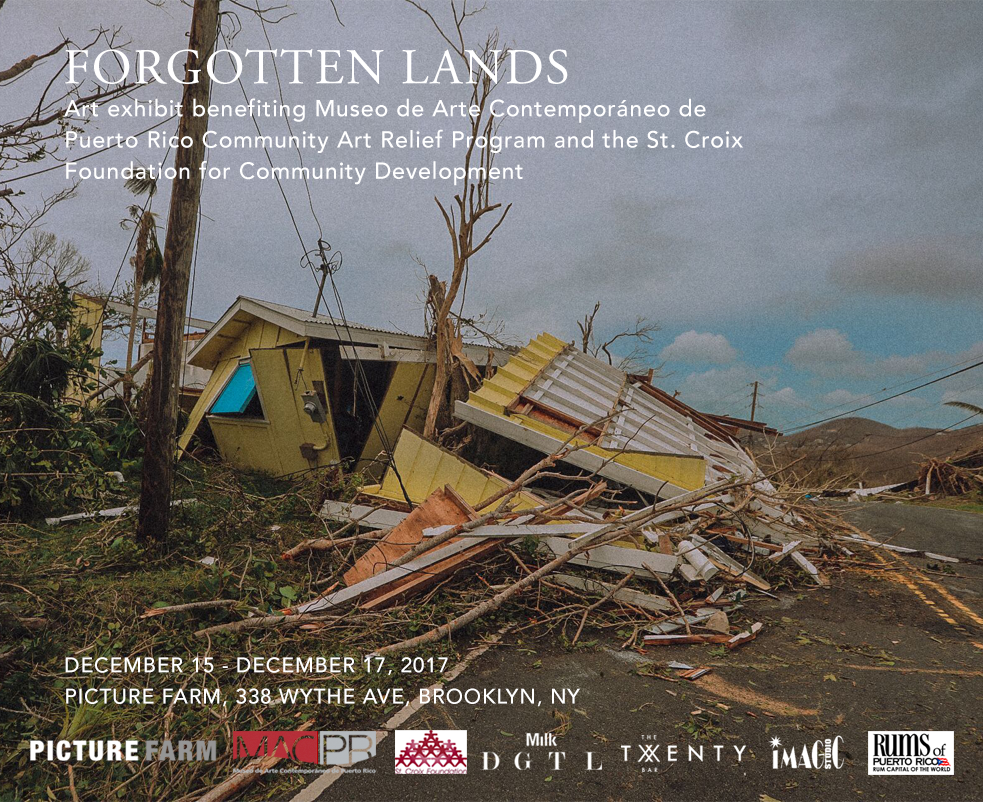 Picture Farm Gallery announces Forgotten Lands, an upcoming art exhibition to raise relief funds for hurricane stricken communities in the Caribbean and Puerto Rico. Featuring artists from Jamaica, Virgin Islands, Puerto Rico and Mainland USA, the show will include large scale work as well as 8 x 10 photographic print work for sale.
Museo de Arte Contemperáneo de Puerto Rico Community Art Program
The St. Croix Foundation for Community Development
Featured Artists
Lipton G Thompson Jr / Melvin Martinez / Jaime and Javier Suárez / Karlo Andrei Ibarra / Lorna Otero / Migdalia Luz Barens / Omar Obdulio Peña-Forty / La Vaughn Belle / Niarus Benjamin / Camille Rouzaud
Small Print Artists
Chis Gregory / Eliud Echevarria / Erika P. Rodriguez / Ibrahem Hasan / Imran Stephen / Cory Bishop / Don Brodie / Ivar Wigan / Kris Merc / Manuel Velez / Nikol Burgos / David Berg / Rashad Martínez / Rosaura Rodriguez / Sergio Vazquez / Stephanie Segarra / Raquel Pérez Puig / Omar Velázquez / Marie-Elle Vivaldi

With support from Milk DGTL
Opening reception will be on the evening of Friday December 15th from 6-9 PM, with open doors through that weekend of the 16th/17th.
It is a wonderful opportunity to buy holiday gifts and support rebuilding efforts.
Forgotten Lands
Hurricane Relief Art Auction
Opening Reception & Auction Kick Off
Dec. 15 6-9 PM
Picture Farm Gallery
338 Wythe Avenue
Brooklyn, New York
11249